SECOMEE brings the next Generation Themes with Icon Animation on BlackBerry App World.
With 12 icons on your home screen you dont have to visit Aplications Menu everyday, select your 12 most visited icons and put on the first 12 Apps, you will see the best icon animation, making your home screen look Elegant and Perfect for your BlackBerry.
– Professional and Elegant on Home Screen Animation
– Custom color scheme on menus
– 12 icons on Home Page with Animation.
PLEASE REVIEW AND RATE THIS theme!
Instructions:
To Install please go to -Options – Theme – to select Perfect Aurora Theme.
We recommend a battery pull and reboot to minimize theme slowdown.
To uninstall a theme please delete it in the application list.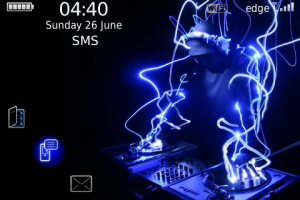 App Name:Animated HD Dj Music Theme
App Version:1.1.0
App Size:660 KB
Cost:US$3.99 USD
Filed Under: Themes Tags: Aplications Menu, Options Theme, Perfect Aurora Theme Previous Post: Steel Business
Next Post: Pink Carbon Default OS6 theme by BB-Freaks