Our blue tropical fishtank theme is amazing, the images used are extremely vivid – check out our screenshots to see what we mean.
This theme comes with our exclusive set of blue icons, only available from My BlackBerry Themes.
Turn your BlackBerry into a fish tank with this theme!
PLEASE NOTE: You will need to reboot your phone after installing this theme by removing your battery and putting it back in again to ensure the icons refresh.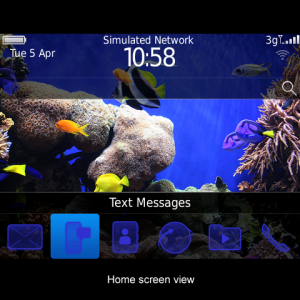 App Name:Blue Tropical Fish Tank Theme – fish theme with blue icons
App Version:1.0.0
App Size:405 KB
Cost:US$1.99 USD
Filed Under: Themes Previous Post: Winter Morning – Cool blue theme with OS 7 icons for BlackBerry Torch, BlackBerry Bold and BlackBerry Curve
Next Post: Luna Bfly