End of The World theme will brings the feel of the situation on your BlackBerry handset! This theme comes with brilliant red icons which you will not find anywhere else on BlackBerry App World.
Note: If your icons dont update after installing this theme, please reboot your phone by removing your battery and putting it back in again. Third party icons such as downloaded games, etc will retain their original color.
Our themes are so easy to install – simply click to buy and the theme will download and open automatically on your BlackBerry. We hope your enjoy our Cool Smiling Flowers theme!
CUSTOM THEME ELEMENTS :
——————————————-
- Wonderful and Advanced UI
- Advanced HOME SCREEN
- Customized Dialog Box
- Customized Active Call Screen
- Customized Incoming CAll Screen
- Customized Lock Screen
- Customized Buttons & Tabs
- Friendly User Interface
- Colours & Fonts
Note:If you have questions or need technical support please contact us before posting a review – we cant see who you are
and therefore cannot respond in reviews.
If u like this theme, please post a review to promote our Theme in BlackBerry App World.
Follow us on twitter @ http://twitter.com/sikdudes
have funnnn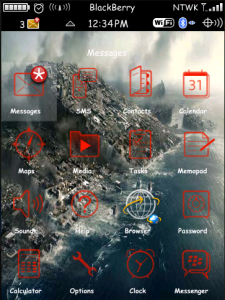 App Name:End Of The World Theme With Brilliant Red Icons
App Version:1.0.0
App Size:1623 KB
Cost:US$2.99 USD
Filed Under: Themes Tags: Cool Smiling Flowers Previous Post: Abstract Aura Green
Next Post: Energy Ribbons – Live Motion Wallpaper