New OS 7 icons, wallpapers and indicators. Themes allow for the customization of your mobile device.Weather slot, Scroll & Hidden Dock, 16 HotKeys and Hidden Today. theme will include a wallpaper, background, custom menus/popups, and icons in one downloadable package.
- Icons hide when focus out and appear when focus in
*note READY OS 6.0 for all model
- If you have questions or need tech support please contact us before posting a review – we can t see who you are and therefore cannot respond in reviews.
- Themes DO NOT APPEAR under the APPLICATIONS or DOWNLOADS folders. To find & activate theme go into Options – Themes and choose it from the list
Theme Features:
Hidden Today text
Weather slot
Scroll and Hidden Dock 8 Customizable Icons 6 for Touch Screen
16 HotKeys 9 for OS 5.0
Background on all screens
All application icons
Menu colors, highlights, alert icons and popup buttons
Fonts and colors
Profile icons
Hotkey list -
c: Calender
e: Messages
f: FaceBook
i: Pictures
l: Lock device
m: MySpace
r: App World
s: Universal Search
t: Twitter
u: Music
w: Task
v: Videos
x: Maps BB
y: Manage connections
p: SMS
0: Profiles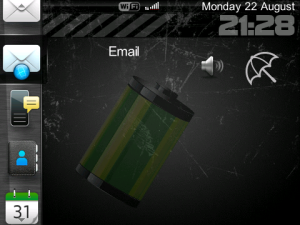 App Name:Energy Box i7 Custom Style
App Version:1.0.0
App Size:780 KB
Cost:FREE
Filed Under: Themes Tags: APPLICATIONS, Options Themes, Scroll Hidden Dock, Universal Search Previous Post: Tunnel Light Glow Theme with Magnificent Chrome Aspect Icons
Next Post: 1 Mr.O and friends – I hate monday