The beautiful & fabulous fairies are here to spread their magic on your BlackBerry.
Customized green icon set.
Battery meter as flowers. When the battery is low, it looks as if the flowers fall down.
Signal meter as magic wand.
Note: "Please Check your OS version before you choose. If the theme for your model shows different OS options, please check your BlackBerry OS version to make sure you download the correct one. Click on "Options" then click on "About" on your BlackBerry. The OS version will be "v.4.****" or "v.5.****" .
Features:
Customized icons, font, battery & signal meters.
High quality screen wise backgrounds.
Absolutely beautiful & fabulous theme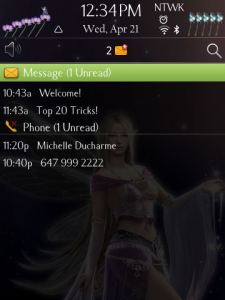 App Name:Fabulous Fairies Theme for BlackBerry Torch
App Version:1.0.0
App Size:2328 KB
Cost:US$1.99 USD
Filed Under: Themes Tags: Features Customized, Note Please Check, OS Previous Post: Di Que Nota
Next Post: iBlack Sound Waver