Cute Fashion Girls Wallpapers
All icons are Bouncing & Customizable.
BlackBerry 6 Layout Slidding Tabs for BlackBerry Torch 9800
Custom Layout for BlackBerry Bold 9780/9700/9650, for Curve 9300/9330/8520/8530/8900 and Tour 9630.
Dont Forget to Leave a review!
Feel free to Contact us if you have any questions or need Technical Support.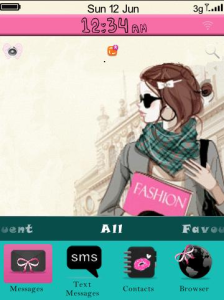 App Name:Fashion Girls theme
App Version:1.0.1
App Size:1085 KB
Cost:US$3.99 USD
Filed Under: Themes Tags: Dont Forget, Technical Support Previous Post: X THEME Bahrain special THEME
Next Post: Waves of Exceitement