To be young and in love. Fall in love all over again with
this cute little theme for your phone. Brings back memories
of swinging on a tire swing or sneaking that hand hold when
no one is looking.
*** Currently only working on 8300, 8707 ***
*** Working on a free update for all others ***
*** You will be notified when the update is available
if you have already purchased this theme. *****
Features:
* Custom backgrounds for each screen
* Custom underlays and focus images
* Custom focus slider
Minimum Requirements:
* OS 4.5 and up
Display Dimensions: 320 x 240
Operating System: 4.5
Vendor: byMigo
Version: 1.0
Follow me on Twitter for updates
http://twitter.com/natishadeyerle
or view directly on the mobile website.
http://m.bymigo.com
** NOTES **
All themes change the order of your icons.
To change your theme go to Options and
select themes. Click the theme you wish to
change to and follow the prompts on the device.
Cannot guarantee the exact pictured look on
alternate size screens.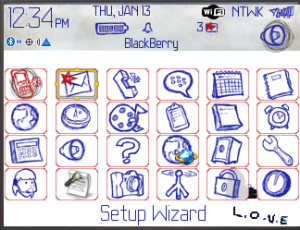 App Name:First Love
App Version:3.0.0
App Size:496 KB
Cost:FREE
Filed Under: Themes Tags: Display Dimensions, Features Custom Previous Post: UK flag animated theme
Next Post: Project Black