Hello Kitty and a big pink heart theme has been create form inspire to make the world in peace. Get it to everyone you love. Make the love around the world. We will you love this theme.
——————————–
Features:
1. Sliding dock with 10 customize icons.
2. Background on all screens.
3. All system icons including messages, browser, contacts, calendar, profile, alert icons set and more.
4. Menu colors, highlights, profile popup Fonts.
5. Quick link to support site and more!
**How to use UR Theme
Step 1 : Activate the theme
Go to Options – Theme then Select the Theme and activate.
Step 2 : Select Your Picture
You can choose picture from your computer to use instead of default picture.
Go to Media Menu and select Picture, Choose the picture that you want.
Step 3 : Set As Home Screen Image
Select Option Menu and choose Set As Home Screen Image
Now you have your theme with your own background, simple and easy.
To uninstall a theme please delete it in the application list.
If you have questions or need tech support please contact us before posting a review .
contact: bb@n-content.com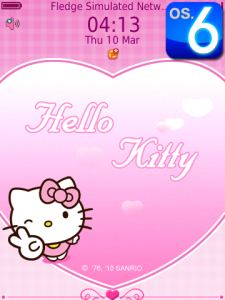 App Name:Hello Kitty and Big Pink Heart UR Theme
App Version:2554.4.20.1400
App Size:603 KB
Cost:US$5.99 USD
Filed Under: Themes Tags: Hello Kitty, Media Menu, Options Theme Previous Post: Jacob theme
Next Post: NEVA fine arts THEME