Hello Kitty just cant wait for the month of love. She enjoys making chocolate for her sweetheart.
This theme looks so sweet with pink hearts background. Try this theme and lets see how sweet you are.
Also feature Hello Kitty icon depends on model and little animated in the home screen.
——————————————-
Features:
1. Sliding dock with 10 customize icons.
2. Background on all screens.
3. All system icons including messages, browser, contacts, calendar, profile, alert icons set and more.
4. Menu colors, highlights, profile popup Fonts.
5. Quick link to support site and more!
To activate the theme after successfully downloading:
Navigate to Options – Theme – Select the desired Theme and activate.
To uninstall a theme please delete it in the application list.
If you have questions or need tech support please contact us before posting a review .
contact: bb@n-content.com
We hope you like the Theme. ENJOY!!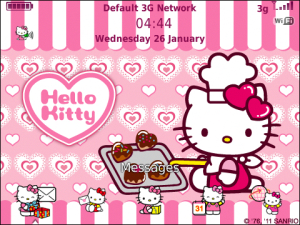 App Name:Hello Kitty making chocolate for sweetheart
App Version:2011.2.25.1605
App Size:598 KB
Cost:US$3.99 USD
Filed Under: Themes Tags: Hello Kitty Previous Post: Glass
Next Post: Blue Tech with White Outline Icons Theme