Enjoy this pink theme with custom Kitty icon, auto hide and slide menu.
Plus the background also animated when you slide the menu.
Hello Kitty was born on November 1st and she lives in London,England with her parents and her twin sister, Mimmy. They have lots of friends at school with whom they share many adventures. Her hobbies include travelling, music reading, eating yummy cookies her sister Mimmy bakes, and best of all making new friends. As Hello Kitty always says,you can never have too many friends.
——————————————-
Features:
1. Hiding dock with 6 customize icons.
2. Background on all screens.
3. Animated Bubble heart for your theme.
4. All system icons including messages, browser, contacts, calendar, profile, alert icons set and more.
5. Menu colors, highlights, profile popup Fonts.
6. Quick link to support site and more!
Device support:
Bold 9700 os 5.0
Tour 9630 os 5.0
Tour 9630 os 4.7.1
Storm2 9550 os 5.0
Storm2 9520 os 5.0
Storm 9530 os 5.0
Storm 9500 os 5.0
Storm 9530 os 4.7
Storm 9500 os 4.7
Bold 9000 os 5.0
Bold 9000 os 4.6
Curve 8900 os 4.6.1
Curve 8900 os 5.0
Curve 8530 os 5.0
Curve 8520 os 5.0
Curve 8520 os 4.6.1
Curve 8350 os 5.0
Curve 8350 os 4.6.1
To activate the theme after successfully downloading:
Navigate to Options – Theme – Select the desired Theme and activate.
To uninstall a theme please delete it in the application list.
If you have questions or need tech support please contact us before posting a review .
contact: bb@n-content.com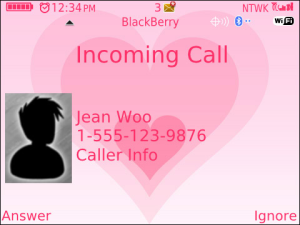 App Name:Hello Kitty Pink Animated Theme
App Version:2010.9.3.946
App Size:585 KB
Cost:US$5.99 USD
Filed Under: Themes Tags: Animated Bubble, England, Hello Kitty, London Previous Post: Pink Day
Next Post: eyeOS7 – OS6 Compatible