The Return of the Hero, and its you! The theme recognizes you as the hero and inspires you to value yourself.
No matter how people think of you! A theme delivers such deep meaning with elegant designing. If you LOVE it, just comment us! We value your feedback! :
Features:
1. Vivid virtual Honor Stage Scene.
2. Colored icon set, nice in every detail
3. Premium & Free MMMOOO Themes link inside
To activate the theme after successfully downloading:
Navigate to Options – Theme – Select the desired Theme and activate.
To uninstall a theme plz delete it in the application list.
Guarantee satisfaction: MMMOOO welcome your feedback comment, so we can keep leading the tide in art designing of theme. If you find a bug, kindly write email to us, we can provide revision asap, and a bonus free theme as well. Be so kind that dont leave a malicious comment.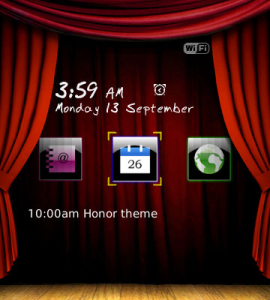 App Name:Honor – When Curtain Opening
App Version:1.0.0
App Size:583 KB
Cost:US$4.99 USD
Filed Under: Themes Tags: Honor Stage Scene, LOVE, MMMOOO Previous Post: Royal Theme
Next Post: Solan Theme with Quick Access