iBAC HD: Woodgrain & Gold Same Distinction with a Woodgrain finish :Exclusively designed for BlackBerry, iBac HD is the reason to no longer wish to acquire other OS Systems for your phone. iBac comes with crisp BlackBerry distinction, and colorful, bright icons full of sharpness and class. iBac is the OS designed to imitate the OS it was designed for, ..A BlackBerry, and nothing else. Get your copy while supplies last just kidding ;D
OS 5.0 6.0 Features
Disappearing Dock YOU control. Press the allocated BlackBerry BACK button to HIDE your dock. Press the SPACEBAR located on the bottom of your Keypad to bring it all back.
- The original iBAC mouse returns with 14k gold trimmings &61514;
- Hi-Res Gold Accented Icons
- Hi-Res Wood Accented Icons, Tabs, and buttons
- Custom HD call screen
- Today Screen allows for 9 Message entries that disappear when not highlighted.
- Customizable Home Screen frame any photo you want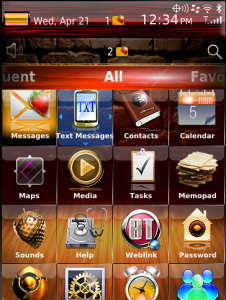 App Name:iBAC HD.Woodgrain and Gold. 9800. 9780. 9700. 9760. 9650. 9600. 9300. 9100. 9000. 8900. 8500.
App Version:1.0.2
App Size:1008 KB
Cost:US$2.99 USD
Filed Under: Themes Tags: Customizable Home Screen, HIDE, OS, Sale Price Previous Post: Bring It Home France – Football Theme for French Fans
Next Post: Traffic OS 6 Style