** THIS theme IS NOT COMPATIABLE WITH OS6 DEVICES EXCEPT BlackBerry Torch 9800**
Kronos Grey is a great new theme for your BlackBerry. It entwines a set of gorgeous and vibrant custom icons with the fluidity of the BlackBerry OS.
Kronos offers you a slick and responsive multi-icon layout on your homescreen, with a profiles icon nestled above, along with an amply sized notification area so you can always see when theres something requiring your attention.
For non touch devices you`ll find 6 icons 5 icons for Pearl 3G laid at the bottom of your device`s screen.
For Torch you`ll find two rows of 4 icons on the bottom of the screen, and a landscape today page.
Torch users please note at current you can only change the portait homescreen wallpaper.
Kronos also offers you your own wallpaper on your lockscreen as well as your homescreen.
***How to find your theme***
OS5 users can find themes under Options – Themes
OS6 users can find themes under Options – Display – Screen Display
Once you have selected and activated your theme, please ensure you do a reboot to fully establish your theme.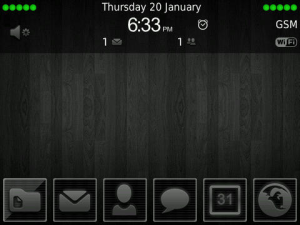 App Name:Kronos Grey
App Version:1.0.0
App Size:277 KB
Cost:US$1.99 USD
Filed Under: Themes Tags: Kronos Grey Previous Post: Access
Next Post: Newton's Cradle – Live Motion Wallpaper