The dramatic silhouette of Paris skyline on the pink-brown polka dots.Cute and clean with pink brown schemeatic.
Features:
1. Sliding Dock with 12 Icons.
2. Hidden Dock for Touch Screen model
3. Hand draw icon Set.
4. Background images on all screens.
5. Color scheme to fit menu colors, highlights, profile popup Fonts.
If you have questions or need tech support
Please contact
bbthemebyme@gmail.com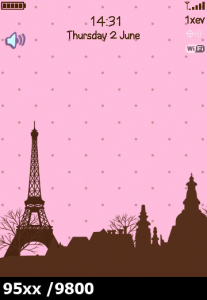 App Name:Love paris in Pink polka dots
App Version:2.0.0
App Size:564 KB
Cost:US$1.99 USD
Filed Under: Themes Tags: Hidden Dock, Paris, Sliding Dock, Touch Screen Previous Post: Fleur de Lis Ocean Green
Next Post: BoXor HD