myCal Hidden Plus is a Today Style theme that shows multiple events when you hover over an activating icon on the Today Screen see screen shots & demo video. The number of Events displayed & the number of Icons on the Today Screen are device specific so please see the information below.
All device builds are wallpaper friendly & utilize larger fonts. Please look at screen shots & Live Demo Videos on actual devices can be viewed directly on your device by following the link below – highlight the link, copy, open your Browser & paste the link in the address bar:
http://www.zimplifier.com/mobile/myCal-hidden_m.vid
If any customer needs support on our products, please do not hesitate to email us. We respond to ALL inquiries in a timely manner.
Device Specifics:
9700, 9600s, 8900s:
- Up To 4 Hidden Previews
- 12 Today Screen Icons
- See demo video
9800, 9500s Storm, 9100 Pearl 3G:
- Up To 8 Hidden Previews
- 8 Today Screen Icons
- See demo video
9000, 9300s, 8500s & 8350s:
- Up To 3 Hidden Previews
- 12 Today Screen Icons
- See demo video
8200s Pearl Flip:
- Up To 7 Hidden Previews
- 10 Today Screen Icons
- See demo video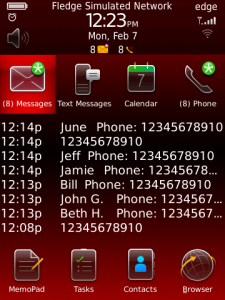 App Name:myCal – Hidden Plus
App Version:1.1.0
App Size:293 KB
Cost:US$3.99 USD
Filed Under: Themes Tags: Device Specifics, Hidden Previews, Live Demo Videos, Today Screen Previous Post: Medical 420
Next Post: Aston Villa Football Club Theme