For all the OS 5.0 theme style lovers out there!
This is a simple and subtle, yet stylish half Zen, half TodayPlus customized theme, featuring:
*OS6-like slide and zoom-in/zoom-out transitions when navigating in and out of menus and apps.
*4 Zen icons and one TodayPlus area: There is a theme version for each choice between what you want for a TodayPlus feature – Missed calls v1, New Messages v2 or Calendar v3 – so you get a Clean Clear look on your homescreen layout.
*Runs lagless and smooth as it is based on the default official icons.
*Custom made changeable, Grey on OS 6 devices & Blue on OS 5 devices wallpaper and non-changeable password locked screen, with a few customized icons to match the theme.
*No annoying weblinks
This theme is available in several color versions blue/pink/red/green/cyan/yellow each with 3 display versions of their own, each showing different TodayPlus areas such as: MissedCalls v1, Messages v2 and Calendar v3.
NOTE: Landscape mode is Not supported on touch models.
For possible complaints and suggestions please contact us at the provided email adress, and we will reply within one business day.
Follow us on Twitter @BglowDesigns for our latest product releases, sales and giveaways!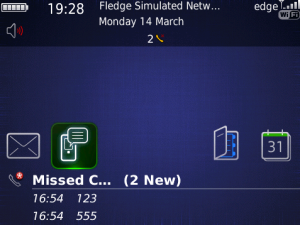 App Name:NeonGreenv1 – 'Missed Calls'
App Version:1.2.0
App Size:216 KB
Cost:US$1.99 USD
Filed Under: Themes Tags: Clean Clear, New Messages, OS Previous Post: Mellow Yellow AIR
Next Post: Royal Security Indonesia for BlackBerry smartphones 8520 Themes