NextGen is a theme that will bring your BlackBerry into the next level, the theme features a tech design and a lot of functionalities.
The homescreen features 9 customizable icons, 3 locked icons music, pictures, videos, access to profiles, clock, options and & manage connections.
The Battery and Signal meters are numerical 0-100 and are placed on the 2 small circles on homescreen.
The theme features the latest 7.0 official icons. The wallpaper isnt customizable.
The theme runs smoothly on any BlackBerry model and is compatible with all the new 6.0 series and mostly 5.0 & 4.6 devices.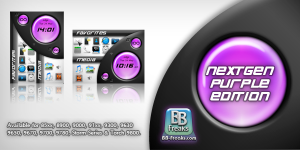 App Name:NextGen Purple theme by BB-Freaks
App Version:1.0.0
App Size:654 KB
Cost:US$5.99 USD
Filed Under: Themes Previous Post: iWave AIR
Next Post: X THEME Qatar special THEME