We have updated this theme to v1.5 that makes it even more customizable! Previously this theme did not allow for customization of the wallpaper. With v1.5 you can now customize! But that isnt all; icons on the home screen can now be hidden so you can have a full home screen to display your favorite picture or wallpaper! Read below for more additional features to NightBlue.
Features include:
* User-customizable icons on the home screen
* All original icons and graphics lend to a pleasant look to this dark theme
* Fonts are user-customizable in the dialog and list screens allowing you to choose your favorite style and size
* Show/Hide icons on the home screen by using the small icons on the bottom banner view images
* ESC key launches QuickLaunch by Nikkisoft. not included
* Extra icon slot on the home screen for your favorite weather app
* Wallpaper friendly
Follow us on twitter.com/mobstermdesign or visit our website http://mobstermobiledesign.com for our latest themes and information on giveaways and specials!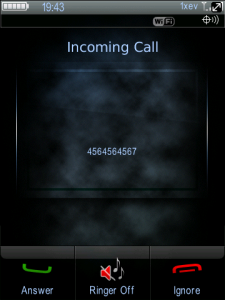 App Name:Night Blue with Hiding Icon Dock
App Version:1.5.0
App Size:663 KB
Cost:US$3.99 USD
Filed Under: Themes Tags: ESC, Show Hide Previous Post: UnderWorld i7 Style
Next Post: Easter Cupcakes theme