The de Havilland Mosquito served in several roles during and after the Second World War.The de Havilland Mosquito operated in many roles during the Second World War. Mosquito-equipped squadrons were asked to perform medium bomber, reconnaissance, tactical strike, anti-submarine warfare and shipping attack and Night fighter duties, both defensive and offensive, until the end of the war.1 Mosquitos were widely used by the RAF Pathfinder Force, which marked targets for night-time strategic bombing. Despite an initially high loss rate, the Mosquito ended the war with the lowest losses of any aircraft in RAF Bomber Command service. Post war, the RAF found that when finally applied to bombing, in terms of useful damage done, the Mosquito had proved 4.95 times cheaper than the Lancaster. Source: Wikipedia, de Havilland Mosquito. To learn more about this warbird please visit wikipedia, or your local library.
Features:
Classic Zen style theme
Custom reworked on RIM icons
Rich texture and theme for a realistic historical feel
Custom New alert indicator – reticle
For anyone who loves old warbirds
Free upgrades
Video of basic features located here using Curve 850:
FAQs:
1 Please make sure you have updated your device OS before purchasing and installing themes.
2 Note that there are many devices with different OS types, so it is very difficult to keep attention focused on all of them. If your theme stops working, please bring it to our attention and we will gladly fix it.
3 Screen shots are limited to a few devices and capture the basic of what you will see in the theme. Please understand that each device will display differently, so there will be differences. If you do not see your device listed, but would like to see screen shots for it, please contact us.
4 Business hours: 8am-11pm, M-F PST. Please allow up to 24 hours for a support reply and anywhere between 24-72 hours for a solutions after an initial reply.
5 It may be necessary to do a battery pull or use an app that assists in clearing memory and resetting the device when installing any themes.
6 Theme do not appear in the Application or Downloads folders, but can be found through Options — Themes — Scroll to find theme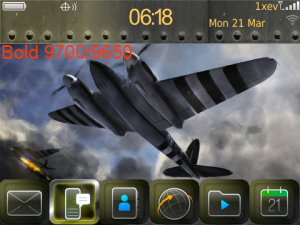 App Name:NightFighter
App Version:1.3.0
App Size:820 KB
Cost:US$4.99 USD
Filed Under: Themes Tags: Custom New, Havilland Mosquito, OS, Second World War Previous Post: Dolphin Cove
Next Post: CirColors Lines theme