*Does not support OS 6.0*
Nightmare theme gives you an intense deep blue theme for your BlackBerry, including buttons that softly glow when selected.
Installation Instructions: After you download the theme, it wont show up in your Applications or Downloads
folder. Instead, go to Menu – Options – Theme and youll see it in the list.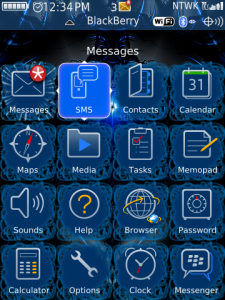 App Name:Nightmare Theme
App Version:1.0.0
App Size:1557 KB
Cost:US$4.99 USD
Filed Under: Themes Tags: Menu Options Theme, Nightmare Theme, OS Previous Post: Colorful Aura Theme for BlackBerry v6.0
Next Post: Green Strings Custom6