On the Tee
If Golf if your passion then this is your themes.
The theme is design by Adastra Design Studio.
Support for OS 6.
9300, 9650, 9700, 9780 and 9800 devices with BlackBerry 6 OS.
Support for OS 5.
9700, 9600, 9500, 9300, 9000, 8900, 8500, 8300 with BlackBerry 5 OS.
Maximum Optimization to Prevent Memory Leaks.
No SVG coding which makes it very fast, no leg.
Get the feel of Golf on your BlackBerry.
4/6 Icon home screen.
Changeable app order.
Changeable wallpaper, the tees does not change.
Screen shots may differ as per device.
*Note: for OS 6 some icon may not change due to software restriction in OS 6.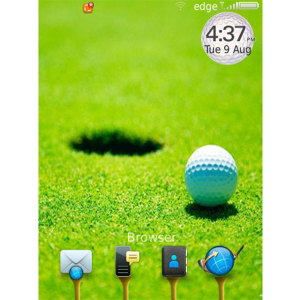 App Name:On the Tee
App Version:1.0.0
App Size:2176 KB
Cost:US$1.99 USD
Filed Under: Themes Tags: Adastra Design Studio, OS Previous Post: Lying Mouse
Next Post: Orange Arrows Theme with Wonderful Multi Coloured 3D Icons