**Just PINK!!!**. A nice in contrasting, easy for operation theme by MMMOOO Art Designing.
Target office lady and executive! Send one to your beloved wife or girlfriend.
Features:
1. A theme targeting to executive people who like fast in speed and easy in operation
2. Fixed Calendar today plus info on homescreen, you will never miss any important
3. Use default icons, a theme will not waste your time in familiar with a new theme
To activate the theme after successfully downloading:
Navigate to Options – Theme – Select the desired Theme and activate.
To uninstall a theme plz delete it in the application list.
Guarantee satisfaction: MMMOOO welcome your feedback comment, so we can keep leading the tide in art designing of theme. If you find a bug, kindly write email to us, we can provide revision asap, and a bonus free theme as well. Be so kind that dont leave a malicious comment.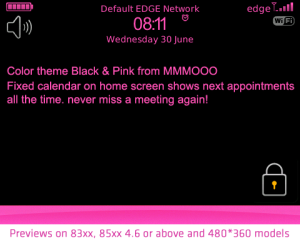 App Name:PINK and Black
App Version:1.0.0
App Size:207 KB
Cost:US$4.99 USD
Filed Under: Themes Tags: Fixed Calendar, MMMOOO, PINK Previous Post: I left NY
Next Post: Themes in Motion: Valentine's Day