Finally a classy, simple, elegant theme representing breast cancer awareness!
This theme features a simple color scheme and easy to read text.
Pink ribbon new item indicators, animated hourglass and lock icon accents.
Home screen icon order is user defined, your favorites up front! Hidden today layout displays your messages or calendar entries when the corresponding icon is rolled over.
Wear this theme and show your support! A portion of every theme sale will be donated to local non-profit and charities supporting early detection and awareness. You arent just purchasing a theme, you are supporting the cause! A sale count is being kept on my website for those interested in the number. a web-link to my site is included in every theme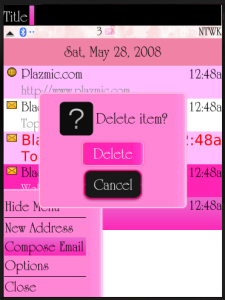 App Name:Pink Ribbon
App Version:2.0.0
App Size:2493 KB
Cost:US$5.99 USD
Filed Under: Themes Tags: Pink Ribbon Previous Post: Zion-X with Today
Next Post: Autumn Leaves Purple