Like pink? Yeah you do…Well this theme has plenty of it. Every screen and highlight is absolutely perfectly pink. This theme is a must have for any pink lover. And not only is this theme a lot of pink, but its also stylish too. Your a few clicks away from being in a perfectly pink paradise…Welcome! Screenshots are of the 9700 and 9500 BlackBerry devices.
This theme supports the 5.0 AND 6.0 Operating Systems OS. You may need to download and install the latest version of your devices operating system for this theme to function properly.
Screenshots may vary slightly by device!
Please read our description, for proper installation.
Please download in a well connected area, or over Wifi to minimize downloading errors or interruptions.
**Having problems with your theme?**
Questions? Comments? Problems?
Please drop us a line rather than leaving a negative review, and we will do whatever we can to help. Customer satisfaction is our 1 priority!
support@a3mn.com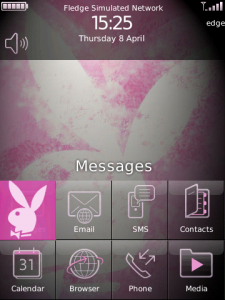 App Name:Playboy Pink Perfection
App Version:1.1.0
App Size:299 KB
Cost:US$5.99 USD
Filed Under: Themes Tags: Welcome Screenshots Previous Post: OSi.7 – Black Victoria
Next Post: AKIDs – Flower