Pleasantly Pink comes in two versions: This is the Custom Zen Version Today Plus also available in BlackBerry App World. This is a very simple and elegant theme. Icons are easy to distinguish and comes with fonts that can be customized to your favorite style and size certain portions of the theme cannot be edited.
Features:
* Animated zoom screen transitions for devices running 5.0
* Quicklaunch ready by pressing ESC key
* User-customizable icons & fonts
* Original icons, graphics and highlights
* Show/Hide dock icons on the home screen
* Looks a great with any of your favorite wallpapers
* ALL UPDATES ARE FREE!
PLEASE REBOOT YOUR DEVICE AND SET PERMISSIONS TO ALLOW FOR ALL OPTIONS AFTER INSTALLATION. THIS ENSURES THAT THE THEME INSTALLS PROPERLY AND WORKS COHESIVELY WITH YOUR DEVICE.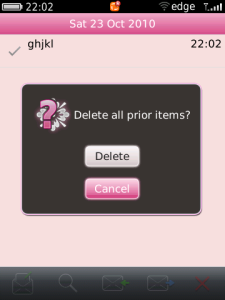 App Name:Pleasantly Pink in Custom Zen
App Version:1.5.0
App Size:447 KB
Cost:US$4.99 USD
Filed Under: Themes Tags: Custom Zen, Features Animated, Pleasantly Pink, Show Hide Previous Post: Vivid Theme
Next Post: iDroid theme