If you are a dog lover then you will absolutely love this Puppies theme. Beautiful images and icons that spring up as you click on them will make this the perfect theme for you!
*Theme display may vary based on your handset capabilities.
*To activate your theme after your download: Click on Options, then Theme.
Tour™: OS 4.7
9700: OS 5.0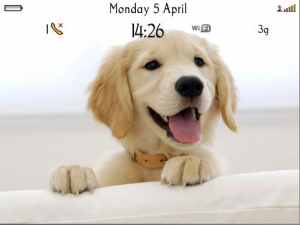 App Name:Puppies for BlackBerry Bold 9700 and Tour Theme
App Version:1.0.0
App Size:1703 KB
Cost:US$5.99 USD
Filed Under: Themes Previous Post: Hikari Theme for Spring
Next Post: SLICK by WJD Designs