UPDATED TO SUPPORT ALL DEVICES RUNNING 6.0
Purple Haze is a bright eye-catching purple theme to support the newest devices. All new icon set and better navigation and functionality. We made one of our best selling themes, better!
If you like purple and pink, this is definitely for you.
Features:
* Original wallpaper
* Icons are all original with the home screen icons user customizable
* Flashing icons on the home screen when selected select devices
* Animated zoom screen transitions for all devices running 5.0 & 6.0
* Get a zen version and today plus version in one purchase!
* FREE UPDATES paid versions only
**IMPORTANT**
You MUST set permissions to "allow" for all options and RESET your device after installation! This will ensure that your theme installs correctly and works cohesively with your device!
Be sure to follow us on twitter.com/mobstermdesign for our latest themes, announcements and giveaways.
You may also go to our website http://mobstermobiledesign.com
THIS UPDATE IS FOR 5.0 & 6.0 ONLY. IF YOU ARE RUNNING AN OLDER OPERATING SYSTEM, YOU WILL NEED TO UPGRADE TO THE LATEST VERSION TO RECEIVE THIS ENHANCED UPDATE.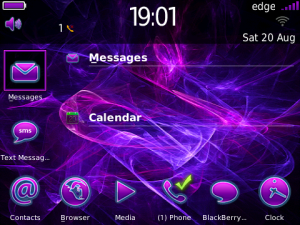 App Name:Purple Haze Theme 2 for 1
App Version:1.9.2
App Size:853 KB
Cost:US$3.99 USD
Filed Under: Themes Tags: Features Original, RESET Previous Post: Wish Upon a Star – Live Motion Wallpaper
Next Post: Hello Kitty has date on Valentine day