Are you looking for a Graphic theme that matches your style and swagger? This theme takes the look of your BlackBerry to a gritty, Rock and Roll level. Featuring Original graphics, icons, and visuals this theme also boasts a Hidden Today feature on your home screen so that you not only get a great look, but it still brings you all the functionality you need.
Features:
* After downloading go to Options, Theme, select to apply
* An edgy, progressive design
* Original visuals, icons, and buttons
* Stands out from the crowd
* Show the world your a Rockstar!
* Battery pull is recommended after installation.
**97xx or 96xx OS5.0 or lower compatible only – Not compatible with OS6.0**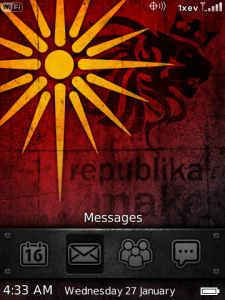 App Name:Republika
App Version:1.1.0
App Size:628 KB
Cost:US$4.99 USD
Filed Under: Themes Tags: Featuring Original, Graphic Theme, Hidden Today, Rockstar Battery Previous Post: Pink Flower Theme with Brilliant Orange Aspect Icons
Next Post: Water Drops Orange