Outrival the best and take a little tradition wherever you go, Riva AIR utilizes our sliding icon technology with fewer icons on the home screen, where only a single row stands at the bottom.
Simply place your cursor on the sliding icon button and select. The icons on your home screen will disappear completely to reveal a flawless, unobstructed home screen.
This theme, by drawing upon the combination of past and present, invokes a cultivated attitude through the glamour of artesian materials and stylish design. Rousing the senses with an elegant appeal of the finest materials, leather and mahogany render this product as one of the markets most contemporary visions of design.
Love your BlackBerry!
Please be sure to REBOOT YOUR DEVICE after activation.
Vendors cannot reply to Reviewers. Please email support if you would like a response.
To view all of our Products in the BlackBerry App World visit http://appworld.blackberry.com/webstore/vendor/3098
See our website www.berrylab.com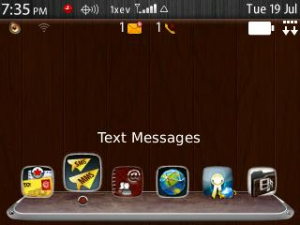 App Name:Riva AIR
App Version:1.1.0
App Size:711 KB
Cost:US$3.99 USD
Filed Under: Themes Previous Post: Flag of Spain Live Wallpaper
Next Post: Usahana Happy Moment