theme,Your favorite loveable screen-eating character now comes in Green and has his very own Theme! It even includes a custom slurping and burping ringtone.

All new icons
New official Screen Muncher font
New message icon mini Screen Muncher
New call screens featuring Screen Muncher
New Screen Muncher color scheme through out theme - buttons, highlighter, text
New Battery and Signal Meters
New Screen Muncher Tone

Screen Muncher will now "munch" when you focus on your icons and open when you slide up to the profiles icon. For touch devices you can touch the center of the mouth to open and close Screen Munchers jaw.

Want more Screen Muncher colors? Follow the links below and keep an eye out for new colors popping up on App World!

The Screen Muncher Theme also includes links to download the most popular FREE BlackBerry apps ever!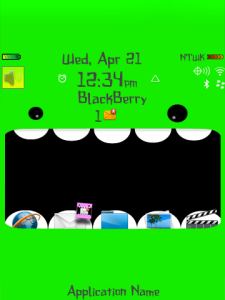 App Name:Screen Muncher Green Theme
App Version:1.0.0
App Size:748 KB
Cost:US$0.99 USD
Filed Under: Themes Tags: App World Blue, Screen Muncher, Screen Muncher New, Screen Munchers Previous Post: Shoot n Share
Next Post: Orange Joyful Theme — Get Most colorful theme for you BlackBerry