FREE ringtone offer!
Simply email us and we will send you a free GOAL ringtone!!!
Support Spanish soccer/football.
This premium sports theme features customized homescreen, lockscreen, menus, fonts, colors, call screen, soccer ball icons and notifications, and a fun ringtone OS 5.0!
To install, simply go to BlackBerry Options – Theme – Select appropriate theme.
Please leave a review if you enjoy the theme, thanks!
Features may vary by BlackBerry model.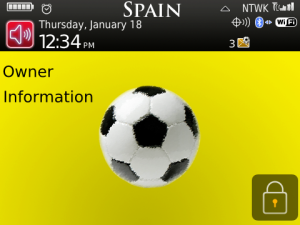 App Name:Spain Soccer Football Futbol Theme with GOAL ringtone offer
App Version:1.0.0
App Size:590 KB
Cost:US$1.99 USD
Filed Under: Themes Tags: GOAL, OS, Support Spanish Previous Post: iBAC HD DEMO 9800. 9780. 9700. 9760. 9650. 9600. 9300. 9100. 9000. 8900. 8500. 8330
Next Post: Javatek Theme Center