Sunny Flower Animated is a lovely theme that features a cute landscape with bunch of sunflowers, a beautiful butterfly that glitters and a bee that will move around the homescreen.
The homescreen features 6 customizable icons, the wallpaper isnt customizable.
The theme is less than 1MB for Non-Touch Devices and 1,5MB for Touch devices, so dont worry for slowness while having a awesome animated homescreen.
The theme is compatible with mostly BlackBerry devices using softwares 4.6 , 5.0 and 6.0 !!!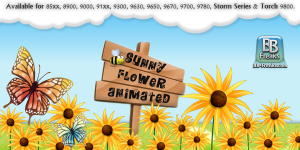 App Name:Sunny Flower Animated theme by BB-Freaks
App Version:1.0.0
App Size:590 KB
Cost:US$5.99 USD
Filed Under: Themes Tags: Non Touch Devices, Sunny Flower Animated Previous Post: Pink Flavour Theme
Next Post: X THEME Sweden special THEME