The pure white frame rounded with Sweet white flowers.The sweetheart photo frame familia with your own
photos ,wallpaper.The best fit with the wedding photos,sweet memory.
Features:
*Hidden Dock for touch screen model 95xx
*Factory setting for 9800 os5
*Hand Draw Icon Set.
*Photo Frame Effect
*Background images on all screens.
7. Color scheme to fit menu colors, highlights, profile popup Fonts.
*BYME – Quick link for more and Free stuff.
If you have questions or need tech support
Please contact
bbthemebyme@gmail.com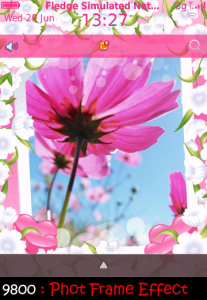 App Name:SweetHeart Photo Frame theme
App Version:2.0.0
App Size:680 KB
Cost:US$1.99 USD
Filed Under: Themes Tags: Features Hidden Dock Previous Post: Drive Safely
Next Post: End of The World with fantastic grey icons