Choose your team. Team Red Ninja!
Features:
* Custom backgrounds for each screen
* Custom underlays and focus images
* Coordinating icons on each theme
* Custom battery and signal meters
* Free updates
* Screen Transitions
* Ringtone clip
Minimum Requirements:
* OS 5.0 and up
Operating System: 5.0
Vendor: byMigo
Follow me on Twitter for updates
http://twitter.com/natishadeyerle
or view directly on the mobile website.
http://m.bymigo.com
** NOTES **
All themes change the order of your icons.
To change your theme go to Options and
select themes. Click the theme you wish to
change to and follow the prompts on the device.
Cannot guarantee the exact pictured look on
alternate size screens. When contacting support
please include the name of the theme you are
writing about.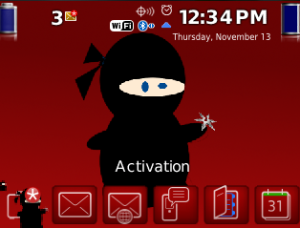 App Name:Team Red Ninja
App Version:2.0.0
App Size:323 KB
Cost:US$0.99 USD
Filed Under: Themes Tags: Operating System, Screen Transitions Ringtone Previous Post: iBlue Theme with Tone
Next Post: Proud American