ONLY Best! The Best Aquarium theme shows you a fabulous & stunning UI with 1st class standards and details.
*Theme is smooth as the default theme, without any slow down of the system performance*
Features:
1. MMMOOO Art Designing in every little detail, went through strict QA!
2. Dynamic Fit! You can change the wallpaper with any of the pre-load wallpapers, then you will enjoy another masterpiece :
3. Animated hidden dock, ultra view of the wallpaper scene still with easy access to homescreen icons
To activate the theme after successfully downloading:
Navigate to Options – Theme – Select the desired Theme and activate.
To uninstall a theme plz delete it in the application list.
Guarantee satisfaction: If you find a bug or have a feedback, kindly write email to us, we can provide revision asap. Be so kind that dont leave a malicious comment.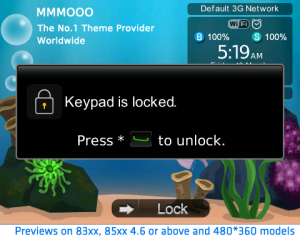 App Name:The Best Aquarium
App Version:1.0.0
App Size:318 KB
Cost:US$5.99 USD
Filed Under: Themes Tags: QA, UI Previous Post: Pink Emo Skull
Next Post: T E X T pink