This is one GRRRREAT theme!
We love tigers and wanted to create a fantastic theme for your phone.
The tiger wallpaper is customisable should you want to change it, but we think its a great wallpaper.
The extra special part of this theme is the icons – many of the icons have little tiger paw prints all over them, check out the screenshots to see in more detail.
This is a wonderful theme for your BlackBerry, we hope you love it!
If you love tigers, youll love this theme!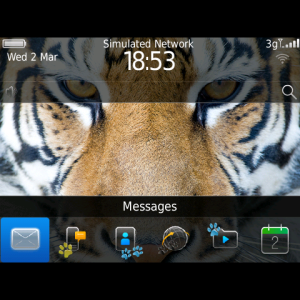 App Name:Tiger Theme – Tiger Paw Print Icons Theme
App Version:1.0.0
App Size:1395 KB
Cost:US$1.99 USD
Filed Under: Themes Tags: GRRRREAT Previous Post: TINT White Purple
Next Post: Blue Glass