**ANIMATED** Bring a calming, meandering Tranquil Garden to your BlackBerry device. Enjoy a soothing nature scene, set amidst a flowering meadow brook featuring animated butterflies and falling leaves. The themes icon set blends seamlessly into the its earthy background.
To activate the theme after successfully downloading:
Navigate to Options – Theme – Select the desired Theme and activate.
Users updating on Storm devices running OS 5.0, may need to reset their homescreen layout selection to properly display the animation. To do this press the menu key from the application screen and select Options. Under Screen Layout select Custom and save the settings.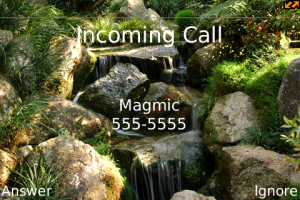 App Name:Tranquil Garden
App Version:1.1.3.2
App Size:986 KB
Cost:US$2.99 USD
Filed Under: Themes Tags: OS, Tranquil Garden Previous Post: OSi.6 Violet chromo Theme
Next Post: Data Mechanism Theme with Magnificent Orange Outline Icons