One of the most frightening themes you will ever see. Solve the mystery of the little girl within this theme to set her spirit free once and for all. If you dont she will haunt your phone, forever!
Do you like this theme? Have some Ideas for other cool themes? Please leave us a review so we can continue to serve you better! The more reviews and suggestions you give us, the more of your favorite and customizable themes we can supply to you!
IMPORTANT INSTALLATION INSTRUCTIONS:
Screenshots provided are for the 9700 and 9500 models. Your specific device may display the theme in a slightly different way unique to your particular device design.
Due to the unreliability of mobile phone networks, please make sure you are downloading and installing this them while connected to w WIFI NETWORK.
INSTALL:
In the Apps Menu select OPTIONS
Navigate to THEMES and select it
Pick the desired theme from this list and CLICK on in.
Return to HOME screen
You are now using your new theme.
IMPORTANT:
For the best results, remove the battery with the phone still on after your theme installation has completed and then reboot your phone.
Having problems or suggestions for new themes? We would love to hear from you, please contact us at support@a3mn.com.
You can also follow us and look for more cool themes at www.a3mn.com or follow us on Facebook at www.facebook.com/a3medianetwork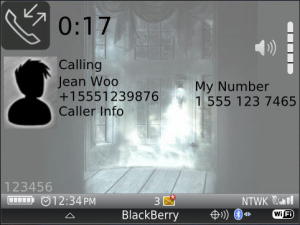 App Name:Unleashed Polterguist
App Version:2.0.0
App Size:238 KB
Cost:US$0.99 USD
Filed Under: Themes Tags: Apps Menu, CLICK, HOME, THEMES Previous Post: Ruby Red Theme For BlackBerry Torch
Next Post: Firework Stars Theme with Red Icons – Animated Exploding Star Fireworks