The Chinese style wash painting of Lotus–elegant, out of mud but not being stained, installed this theme, makes your phone more concinnity, maybe you can also smell the faint fragrance.
Notice:
* This theme requires OS 4.2 OR ABOVE or it will not work. The design of incoming call & active call screens not supported in OS 4.2 & OS 4.5.
* Themes DO NOT APPEAR under the "APPLICATIONS" or "DOWNLOADS" folders. To find & activate theme go into Options – Themes and choose it from the list
* All themes will change the order and visibility of your device icons, folders and downloaded apps. This is part of the blackberry os and is beyond our control.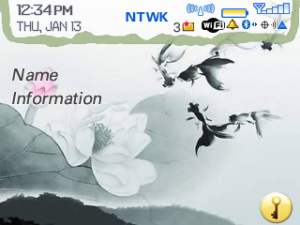 App Name:Washpainting Lotus
App Version:1.1.0
App Size:157 KB
Cost:US$2.99 USD
Filed Under: Themes Tags: APPLICATIONS, DOWNLOADS, Options Themes, OS Previous Post: Autumn Leaves Purple
Next Post: X THEME Uruguay special THEME