This theme is so simple and yet so unique in its design that is just a must have theme for your BlackBerry. Its simply exquisite. This theme has no special features, no hidden docks, no hidden commands, and its not going to make you think twice on how to use it. This theme is made to simplify the way you use your BlackBerry plus giving you sweet and cool design. However, once you install it, this theme will certainly make your BlackBerry looks exquisite.
Theme features top and bottom row of icons that are following the order listed under your Application screen. Torch and Storm devices feature same screen in portrait mode as well as in landscape mode so either way you turn your device, you will get the same experience.
* Once installed theme is found under Options – Themes and by simply clicking on it it becomes active on your device.
* Note that theme might not appear exactly the same on all devices due to differences in screen sizes and OS running on device.
* Battery pull is recommended after installation of any new theme
* If you have a question, problem, or just a plain comment, please contact us and we will do whatever we can to assist you. Customer satisfaction is our number 1 priority.
* Make sure you also visit us at www.musicsblackberry.com for more themes.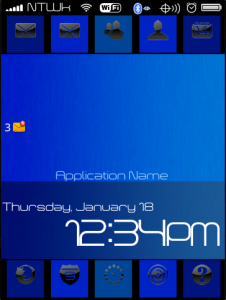 App Name:xQuisite
App Version:2.0.0
App Size:1228 KB
Cost:US$3.99 USD
Filed Under: Themes Tags: App Name, Options Themes, OS Previous Post: Java Jazz Festival 2010 Themes 7
Next Post: Clouds with Green Icons Theme