A highly addictive Game that will keep you playing for hours.
Goal of the game:
Group the blocks by colors to keep them from reaching the top. The higher the level, the faster they move.
How to play:
Move blocks left or right to align color groups of three or more blocks to make them disappear.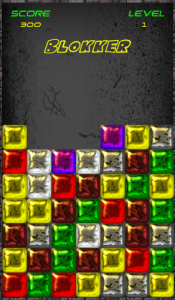 App Name:Blokker
App Version:1.2.0
App Size:918 KB
Cost:US$0.99 USD
Filed Under: Arcade Game Previous Post: Billy Joker
Next Post: Space Jewels