LLearn over 300 recipes for the best cocktails, liqueurs, and wine spritzers – for aspiring bartenders and waitresses.
Search bots show images. You guess the drink.
The unique, intuitive interface for mobile:
- Tap a button to select a learning activity
- Tap the left selector for index of terms
- Swipe to turn the page
- Tap the right selector for more apps
- Tap the gallery to discover 800+ apps and 50k+ terms
Join the 1,500,000 plus who have downloaded Keys-by-TEARN.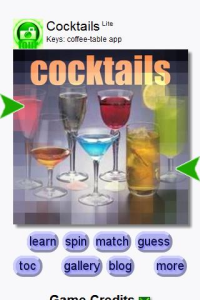 App Name:Cocktails Keys
App Version:5.1.0
App Size:126 KB
Cost:US$1.99 USD
Filed Under: Arcade Game Tags: TEARN Previous Post: Sleepy Hollow
Next Post: BubblePop