From the makers of Drums Deluxe comes the next music app for your fingers!
Piano Deluxe is the only piano app which lets you play 3 whole octaves! Record your own songs, choose piano sound sustain settings, and even play along with your recorded tunes… only with Piano Deluxe!
Let your inspiration flow through your fingers with Piano Deluxe, the arcade piano app!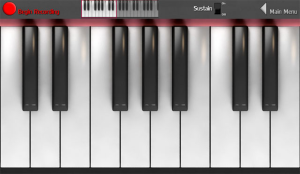 App Name:Piano Deluxe
App Version:1.0.0
App Size:11216 KB
Cost:US$0.99 USD
Filed Under: Arcade Game Tags: Drums Deluxe, Piano Deluxe, Piano Deluxe Let Previous Post: Block Breaker Deluxe Mini Game SP
Next Post: Bug Quest – Limited time 0.99