"The Rain" is an exciting Game where rain drops appear on your screen at a very high speed, giving you an impression of a heavy rain. You need to tap the drops to keep your screen clean. Every tap earns you 10 points.
Since the rain is very heavy, it is a real test of your speed so lets see, how fast can you tap, clean and score.
Background color is randomly picked in every game. Play it, you will love it. It is an addiction indeed.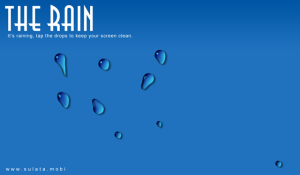 App Name:The Rain – Game for BlackBerry PlayBook
App Version:1.0.0
App Size:375 KB
Cost:US$0.99 USD
Filed Under: Arcade Game Previous Post: Spot
Next Post: Block Breaker Deluxe 2