Enjoy the classic Chinese Game of mahjong that dates back over two thousand years with all the options and functionality youd expect in an Aces game on your BlackBerry smartphone. With 50 layouts optimized for the BlackBerry and tons of options, Aces Mahjong is hard to put down!
Features:
50 BlackBerry optimized layouts.
Layouts ranked by difficulty.
High scores for all levels.
Options include sound, vibration, backgrounds, and tiles.
In game options include hint, undo, and shuffle.
Alt-scroll shows matching tile.
Ability to leave/resume games.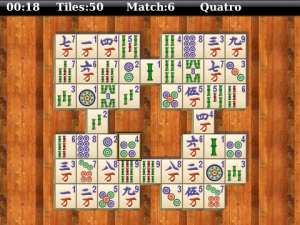 App Name:Aces Mahjong
App Version:1.0.18
App Size:4097 KB
Cost:US$2.99 USD
Filed Under: Board Game Tags: Aces Mahjong Previous Post: RVG Caribbean Poker
Next Post: Word Collapse Demo