Practice your French vocabulary in this exciting 3-in-1 word puzzle Game! If you like Scrabble and TextTwist, this game is for you!
Avalanche de Mots is three games in one package:
- Lespion des Mots: clear the board by making words
- La cascade: new letters fall from above making it more difficult to complete the game
- Détortiller: guess a word from shuffled letters
Choose slow unlimited time gameplay if you prefer to have more time to come up with longer words for additional score bonus. Play fast timed-limited mode if you enjoy the rush of trying to beat the clock.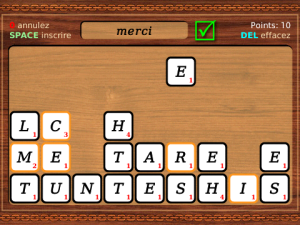 App Name:Avalanche de Mots
App Version:1.1.0
App Size:966 KB
Cost:US$3.99 USD
Filed Under: Board Game Tags: App Name Avalanche Previous Post: Five-in-a-row
Next Post: Punching Can