In the new version:
- Adjusted AI difficulty levels!
- Better OS 5 support!
- Storm controls are fixed.
Capture all your opponents pieces in this classic Game of checkers. It is already enjoyed by thousands of online players around the world. The game features:
- Online multiplayer play against friends or random opponents
- Superb computer AI with 3 difficulty levels
- Hot seat multiplayer shared phone mode
- Global leader board
- When playing online, the game is saved on the server if you lose connection
Highly recommended for fans of online, strategy, war, puzzle, and board games like Chess, Checkers, UniWar, Sudoku, and others.
Fully localized: English, Spanish, French, German and Italian languages are supported.
IMPORTANT! If you have any problems with the game, please contact us at support@1cwireless.com and we will help you! We cannot respond to reviews, your problem will not be solved unless you contact us.
If you have issues with purchasing or downloading the game, please contact AppWorld support.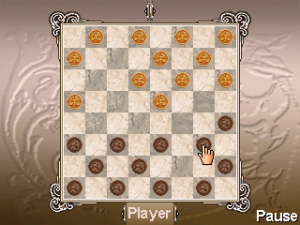 App Name:Checkers Online
App Version:1.1.23
App Size:346 KB
Cost:US$3.99 USD
Filed Under: Board Game Tags: AI Previous Post: The Game of Life
Next Post: World of Dice FREE