Play Reversi Deluxe and chat while in the Game with your BlackBerry Messenger Friends, you can even challenge player who are not in your BlackBerry Messenger List by hosting and join a hosted game. Feel the thrilled and fun chatting and playing at the same time with your BlackBerry Messenger friends with bubble chat style.
Reversi or sometimes called Othello is an interesting, fun, and great board game for all ages. The object is to flip and turn opponents discs over to match your color.
Reversi Deluxe has 4 types of variation, Reversi, Reversileast, Hollowversi, and Hexaversi. Each except Hexaversi, can be played in 3 board sizes, which is 10×10, 8×8, and 6×6.
Reversi – Classic Reversi.
Reversileast – Has opposite goal than Reversi. In Reversileast, the player who has the least discs win the game.
Hollowversi – Reversi with options to choose one to four square randomly removed from the board.
Hexaversi – Reversi played on a hexagonal board.
Notes : Compatible only with BBM v6, will ask you to download BBM v6 before you can play.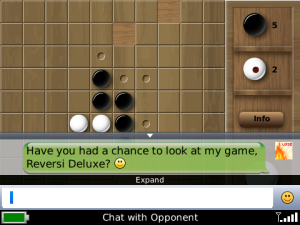 App Name:LS Reversi Deluxe
App Version:1.2.82
App Size:638 KB
Cost:US$1.99 USD
Filed Under: Board Game Tags: BBM, Hexaversi Reversi, Hollowversi Reversi, Reversi Deluxe Previous Post: LS Connect Four
Next Post: ScoreCard