Celebrate PAC-MANs 30th anniversary with PAC-MAN Party!
Face off against classic foes on 3 unique boards in an incredible array of mini-games ranging from competitive eating to cannon blasts! Colonize each board with castles while keeping your eyes peeled for Special Tiles and Power Cookies–theyll alter the board and mini-games!
All 10 mini-games can be mastered with fun tutorials, ensuring youll earn all of the available Bronze, Silver and Gold achievements!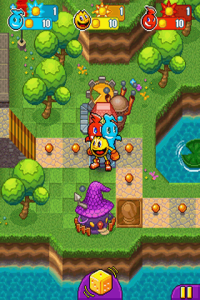 App Name:PAC-MAN Party by Namco
App Version:2.0.0
App Size:5117 KB
Cost:US$4.99 USD
Filed Under: Board Game Previous Post: Connect 4 Battleship
Next Post: Medieval Kings Chess II