The classic card Game of War comes to the BlackBerry!
This timeless game is great for passing time, but there s a twist. In Classic War, you can shuffle your deck at any time, which used correctly can give you a huge advantage and make it possible to win every time!
Can you accept the challenge? How quickly can you beat the computer, or can you even win?
Features:
- Save game and resume it later
- Beautiful custom designed graphics
- Supports BlackBerry OS 4.6 and up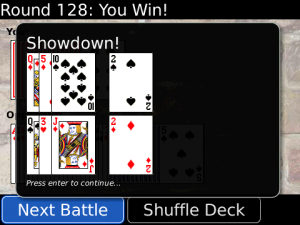 App Name:Classic War
App Version:1.0.0
App Size:182 KB
Cost:US$0.99 USD
Filed Under: Cards Game Tags: Classic War, Features Save Previous Post: Reddit Solitaire Lite
Next Post: Memory